Tucked away from the bustle of Seminyak, Aria Villas and Spa is a newly remodeled set of 19 exclusive units designed for the discerning travellers.
Featuring modern dark wood furnishing and Balinese touches, Aria Villas come with a well equipped kitchenette, a private pool, comfortable lounge areas, spacious bedrooms and beautiful outdoor bathrooms.
With a spa staff on duty from 9:00 am to 9:00 pm, pampering massage or body treatments can be provided in the comfort of the guest's villa. For leisure, explore Bali's attractions on a motorcycle or with a day trip arranged by our Tour Desk. End the day with an intimate candle light dinner by the pool side.

The property is a 5 minutes drive from Petitenget beach, Ku De Ta Beach Club, La Lucciola and 10 minutes walk from Potato Head Beach Club. We provide a free shuttle service to the Seminyak Shopping area and Seminyak Square.
Phone
+62 361 4732588
+62 081 55734949
Location
Jl. Cendrawasih,
Petitenget Seminyak,
Kuta – Bali, Indonesia
EMAIL
info@ariaexclusivevillas.com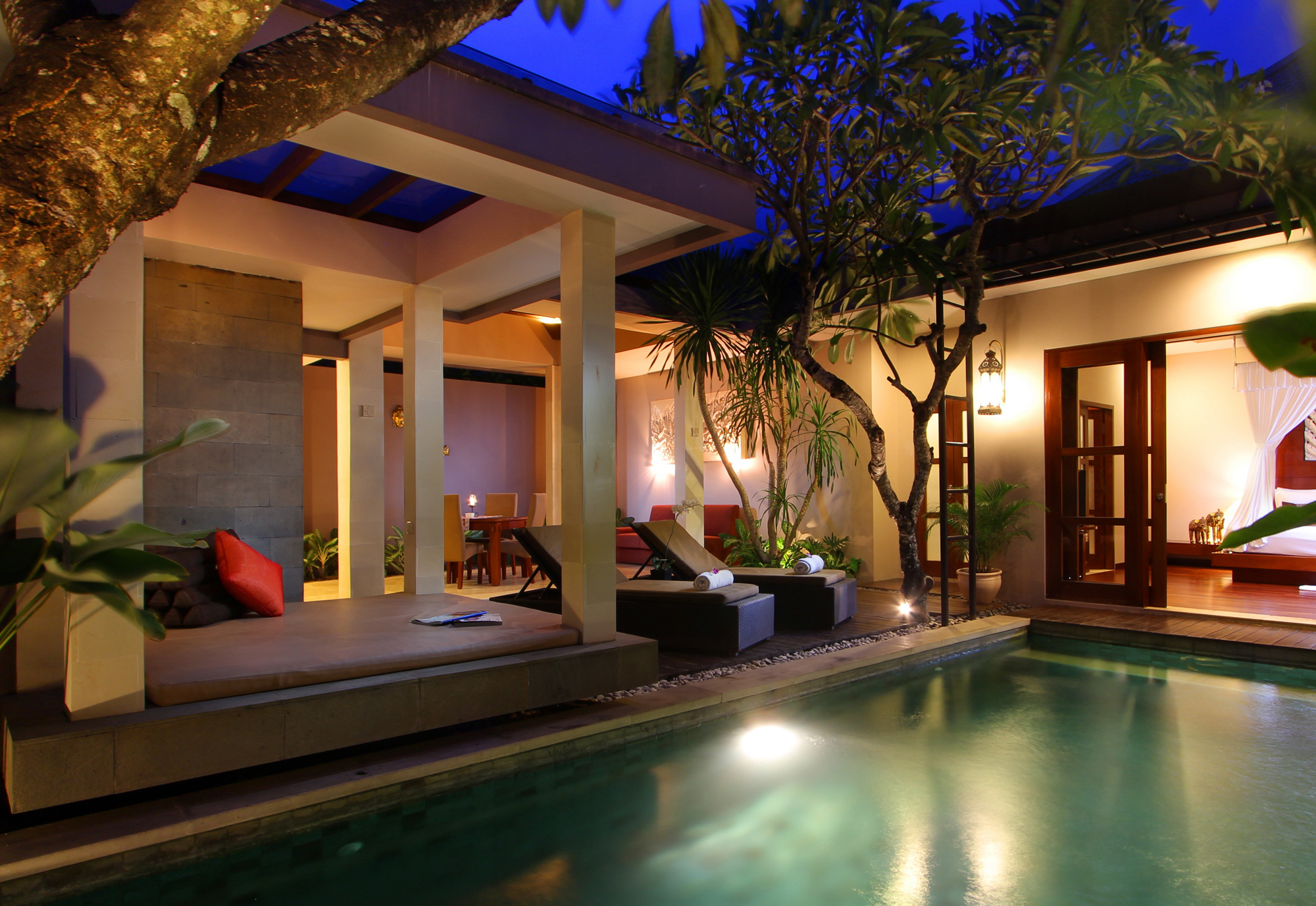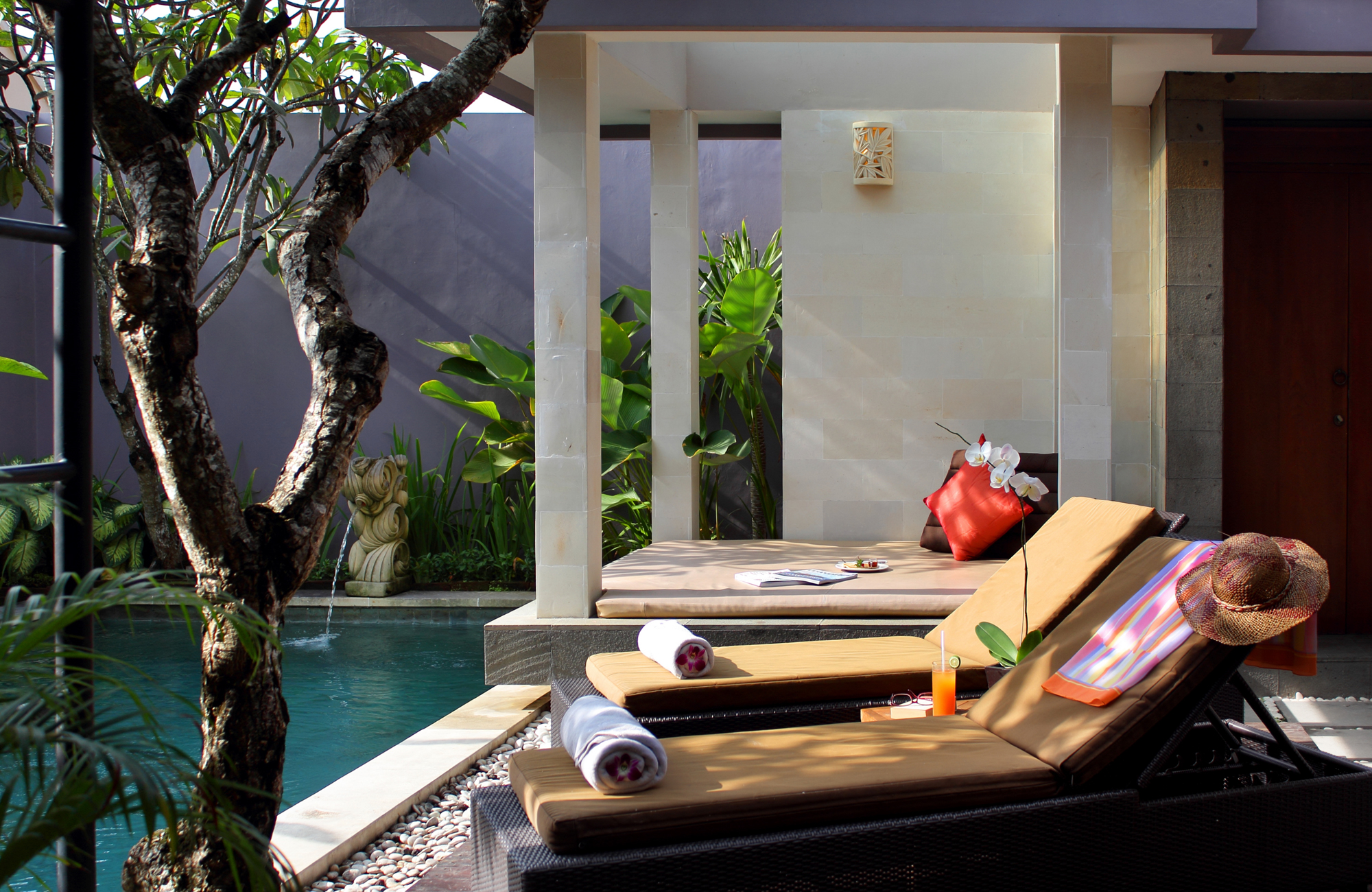 Aria Villas features 19 beautifully appointed 1 Bedroom Exclusive Pool Villas, each including a private pool, living room, kitchenette, terrace, air conditioning, complimentary Wi-Fi, separate shower and tub. The villas are designed for the ultimate escape and relaxation.
THE BEDROOM
Ultimate relaxation for everyone. Each wooden raised bed is comfortably equipped with white linens and mosquito netting and looks out onto the Villa's private pool.
 
THE BATHROOM
Talk about an outdoor oasis. Each bathroom features a rainfall outdoor shower and a luxurious bathtub so you can bathe beneath the palm fronds to the sounds of nature.
THE LIVING AREA
Enjoy the Balinese layout. Each villa has an open-air, fully equipped kitchenette and dining area right next to the pool. Order in room service and enjoy the Balinese cuisine right next to your pool.
ROMANTIC CANDLE LIGHT DINNER

Choose from two delicious dinner menu options featuring a starter, appetizer, soup, two main courses, and dessert with a bottle of wine. The table will be set poolside with a white table cloth, colorful flower petals in the pool and on the deck, and candles scattered all over the villa. This romantic option for two is great to celebrate life's beautiful moments and is sure to impress!
IDR. 2.050.000 net/couple
IN VILLA BBQ

Grilled fresh in your villa, our menu offers the area's freshest seafood, quality steaks, and an impressive wine selection. We work closely with fishermen and fresh fish markets to create dishes that are excellent from the start. Using the finest ingredients and offering a wide selection, we can assure you of great quality. Enjoy our seamless service in a tranquil atmosphere that truly sets us apart from other villas.
IDR. 1.475.000 net/couple
BALINESE COOKING CLASS

We offer a unique opportunity for you to immerse yourself in the true flavors of Bali. Our cooking class includes an 8:00 am trip to the traditional market. The market will introduce you to the abundance of tropical fruits, vegetables and spices available to the locals, as well as giving you a look into Balinese life & culture. After all the food is prepared and cooked, you get to eat the dishes you have created!
IDR. 1.775.000 net/couple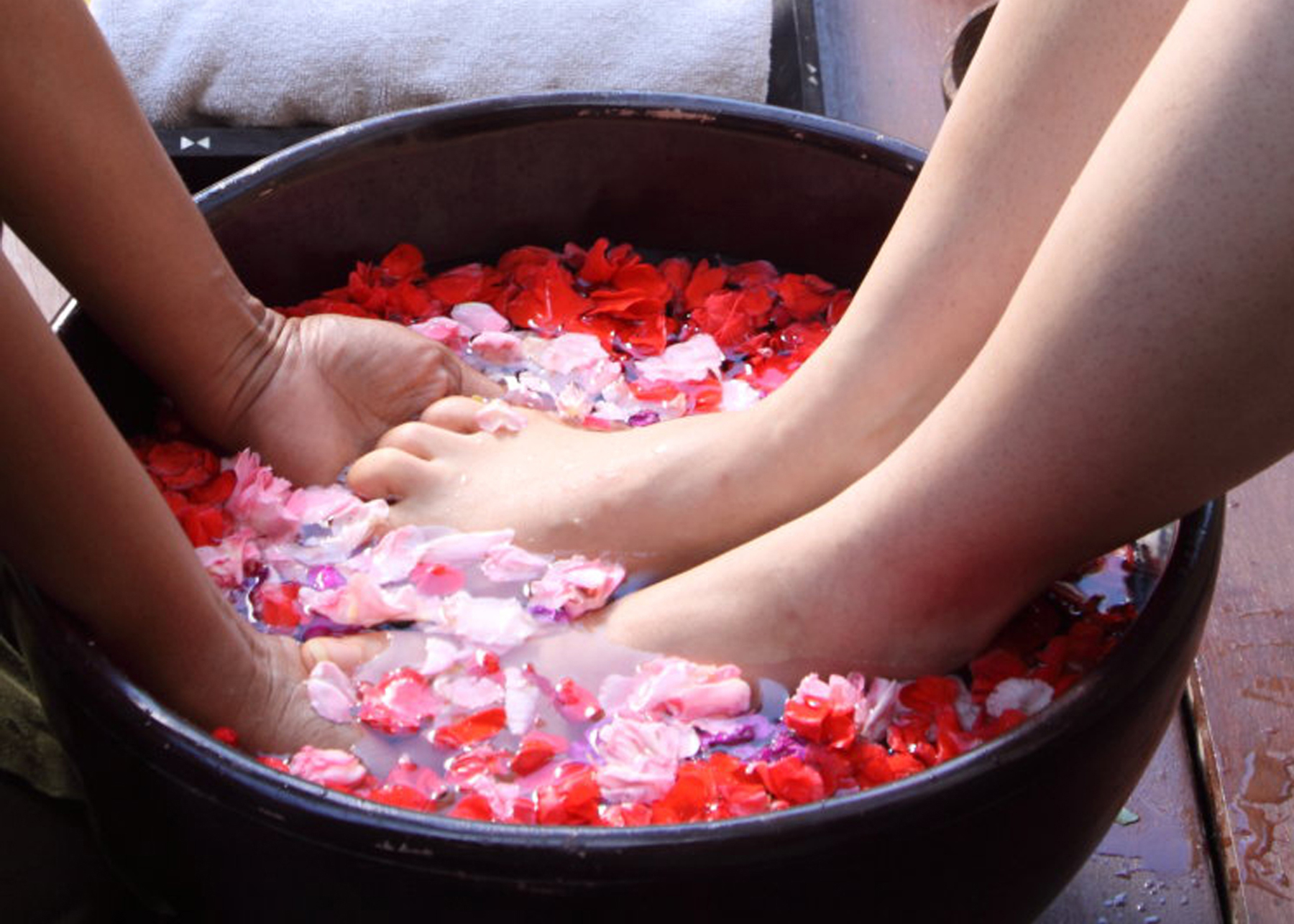 All of our spa offerings will be enjoyed within the privacy of your own villa, under the poolside gazebo.
The Aria Villas Special (2 hours) - US$ 55.00

Enjoy our traditional massage, followed by aromatherapy and herbal foot bath, choice of body scrub or body masker and splash of fresh natural blend of body moisturizer, continued to relax in warm aromatherapy flower bath, then soothes and smoothes your skin with body lotion.

Warm Stone massage (2 hours) - US$ 55.00

The healing power of touch combines with the energy of the earth in this relaxing, start with aromatherapy foot bath and continues with muscle relaxing massage. Smooth and warm stone glide across your body in long, flowing strokes. The heat helps to relax the muscles and has a soothing effect on your emotions. Simultaneously, stone are placed in your body various energy points to encourage the body's healing potential.

Herb Therapy Massage (2 hours) - US$ 55.00

Started with herb therapy foot bath, feel the sensation of the heat herbs pack which are used Indonesian's herbs like ginger, lemongrass, cinnamon, ginger root, clove bud, pandanus leave, etc. combine with relaxation massage it is useful for relief of sore muscles and tired joints, toning mature skin, boosting circulation and good for slimming.

Balinese Massage (1.5 hours) - US$ 40.00

The combination between Balinese style, started with aromatherapy foot bath, created to release your muscle tension.

Aromatherapy Massage ( 1.5 hours ) - US$ 40.00

These special designs to warm your body, will be started with aromatherapy foot bath, then relax your muscle with our exotic massage, point-point of shiatsu, then relax to suck warm aromatherapy with essential oil.
• Seminyak: Lifestyle, nightlife, shopping and restaurants – 3 kms from Aria Villas
• 5 minutes drive from Seminyak Center, Petitenget Beach, KuDeTa Beach Club, La Lucciola and 10 minutes walk from Potato Head Beach Club.
• Kuta and Legian Beach – 5 kms from Aria Villas
• Tanah Lot – 15 kms from Aria Villas
• Denpasar: the capital city – 10 kms from Aria Villas
• Ubud: Bali Art and Cultural Center, jungle, rice terraces – 20kms from Aria Villas
• Uluwatu: White sand beaches, Uluwatu Temple – 25kms from Aria Villas
Tours Available
Bali is one of the most unique and culturally fascinating islands in the World. For many visitors to the "Island of the Gods", experiencing sculpted rice fields, mountains, volcanic lakes and ancient temples will be a once in a lifetime experience. Please inquire about what tour services we have available.
KINTAMANI TOUR 8 hours (Departure time 08:30 am) (Max 5 Persons)

• Barong Dance at Batu Bulan
• Gold & Silver Work at Celuk
• Wood Carving at Mas
• Tampak Siring / Tirta Empul (Holy Spring Temple)
• Kintamani / Volcano Lunch)
• Tegallalang Rice Terrace
• Balinese Painting

BESAKIH TOUR 8 hours (Departure time 08:30 am) (Max 5 Persons)

• Weaving Work at Batu Bulan
• Gold & Silver Work at Celuk
• Wood Carving at Mas
• Coffee Plantation
• Besakih Temple
• Bukit Jambul (Lunch)
• Kerta Gosa

EAST BALI TOUR 9 hours (Departure time 08:30 am) (Max 5 Persons)

• Goa Lawah / Bat Cave
• Tenganan Village
• Candi Dasa (Lunch)
• Tirta Gangga
• Amed
 
NORTH BALI TOUR 10 hours (Departure time 08:30 am) (Max 5 Persons)

• Taman Ayun Royal Temple
• Baratan Temple (Lake Bratan)
• Gitgit (Waterfall)
• Lovina (Lunch)
• Banjar hot spring

WEST BALI TOUR 12 hours (Departure time 08:30 am) (Max 5 Persons)

• Pupuan Rice terrace
• Pemuteran
• West Bali National Park
• Rambut Siwi Temple

UBUD BALI TOUR 8 hours (Departure time 08:30 am) (Max 5 Persons)

• Batik & Weaving Work at Batu Bulan
• Gold & Silver Work at Celuk
• Wood Carving Work at Mas
• Ubud center / Art market

BEDUGUL BALI TOUR 8 hours (Departure time 10:00 am) (Max 5 Persons)

• Butterfly Park
• Jati Luwih Rice Terrace
• Beratan Lake
• Taman Ayun Temple
TANAH LOT TOUR 5 hours (Departure time 02:00 Pm) (Max 5 Persons)

• Royal Tample of Taman Ayun
• Alas Kedaton monkey forest
• Tanah Lot Cliff Temple

KUTA TOUR 3 hours (Departure time 10:00 am) (Max 5 Persons)

• Seminyak
• Legian
• Kuta Center

NUSA DUA, ULUWATU TOUR 6 hours ( Departure time 03:00 Pm ) ( Max 5 Persons )

• Nusa Dua
• Uluwatu
• Jimbaran Bay Dinner

CITY TOUR 4 hours (Departure time 10:00 am) (Max 5 Persons)

• Kumbasari / Traditional Market
• Bali Museum
• Badjra Sandi Monument